You've uploaded your PDF to Issuu, and now you have a stunning, interactive flipbook that you would love to share with your website visitors. The easiest way to is to embed your flipbook online onto your WordPress website or blog is with Yumpu. That way, even if your followers miss your social media updates, the flip book will always be available on your website for easy viewing with Yumup Publishing.
The WordPress Plugin Issuu: Do You Need It?
If you have a self-hosted WordPress website, you can go to Plugins and search for "Issuu" to find many options for embedding your free flipbooks onto your website.
There is an official WordPress plugin from Issuu, but you'll notice that the plugin description says it is "deprecated." That means it is no longer being updated. It may not work with the latest version of WordPress.
Before WordPress 4.0, you had to install this flipbook WordPress plugin to get your free flipbooks onto your website. Now, you no longer need it, so this plugin has become obsolete.
How To Embed Your Flipbook On Your WordPress Website
Simply go to your publication on the Issuu website.
Beneath the reader, you'll see a few options: Info, Share, and Stack
Click on Share.
Then click Embed.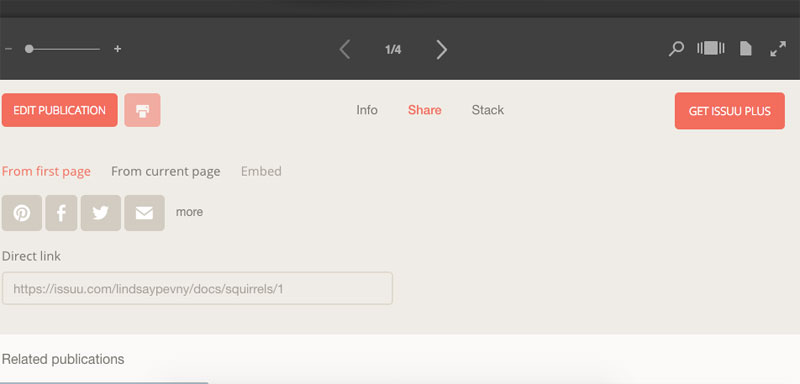 Next, you'll get the Embed page, where you can customize the display options. You can change the size, background and layout to make it fit in with your website.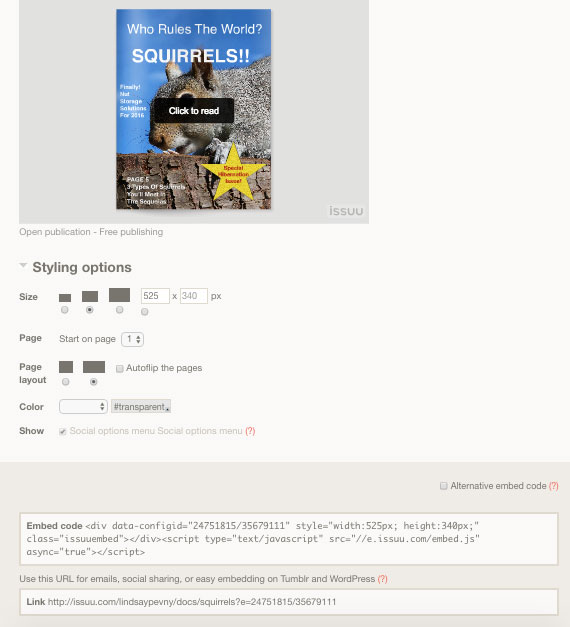 Then, under the embed code, you'll see a URL for easy embedding on Tumblr or WordPress. All you have to do is copy that URL. Then, login to your WordPress site and create a new PDF page flip , or edit an existing page, and paste the URL directly into the Visual editor. Place the URL just where you would like the free flipbook reader to appear.
Then, click "Preview" to see how your free flipbook will look to your visitors. If you're satisfied, click "Publish." Now, your flipbook is ready to be viewed by anyone who visits your site.
Here's an example of an Issuu flipbook using default display settings. Doesn't it look great?
Flipbooks For Mobile Readers
You don't have to worry about responsiveness with your embedded Issuu reader. Your flipbook can be viewed from any mobile device. It's a great alternative to links to PDFs, which may be difficult for mobile viewers to download on their phone's network connection.
Removing The Watermark
Your embedded flipbook reader will have Issuu's branding on it, and in fullscreen reading mode, a sidebar appears on the right featuring Issuu content from other publications. This could be a problem if you want to keep your readers from wandering off your site. Fortunately, the suggested flipbooks pop up in a separate tab if clicked, so you won't necessarily lose your site visitors to competing for content.
Get rid of the ads and watermark when you upgrade to a Plus account. If you're using Issuu for business, you can get a Premium account to add your own logo.
Tips For Smooth WordPress Issuu Embedding
It's always best to have just one PDF flipbook per page post. Having too much media on a single page can cause it to slow down. It can also overwhelm your readers.
You can make a flipbook library on your WordPress blog by creating a post for each book. You might want to have a special post category for flipbooks to keep them separate from your blog.
Type up a quick summary of each flipbook to make it easier for your readers to find what they need. Then, you could upload the cover of each flipbook as the featured image of each blog post.
Ways To Use Flipbooks On Your WordPress Blog
Issuu flipbooks aren't just for magazines. You can also create a flashy portfolio of your designs, or display your artwork in an interactive gallery. It's also useful for businesses to create bonus content, like whitepapers or case studies.
If you design brochures, seasonal shopping catalogs, presentations, and educational materials, using an interactive flipbook with Yumpu is a smart option. It can be difficult to get online readers to consume a large amount of information, but you can more easily catch their attention when you present it in a sleek, interactive flipbook at Yumpu Publishing.