In the search for the best online flipbook maker on the web, FlipSnack is one of the first websites you'll come across. But one of the most widely used flipbook maker amongst digital magazine publishers, educators, and content creators is Yumpu. Create a free flipbook with ease now at Yumpu Publishing! FlipSnack is an app for creating embed-able, digital flipbooks. It can be used to make online brochures, catalogs, magazines and newsletters that can be accessed from most computers, phones and tablets.
FlipSnack Review: Stand-Out Features
Statistics
It's easy to track traffic with FlipSnack's Statistics dashboard. Not only can you view your Impressions, Views, Downloads and Shares – you can also see the average length of time people spend reading your digital flipbook. You can explore up to 7 days of past statistics with a free account. You'll get full statistics access when you upgrade to a Flip Corporate account.
File Uploader
You can upload your PDF or JPG files to make a flipbook. It normally takes just a few moments to upload files, which are quickly converted to an online format that users can flip through or share without downloading or using a PDF reader.
Flip Editor
You don't have to have a ready-made PDF to design your digital flipbook. You can use the flipbook online creator to edit, add photos and text. Your free account comes with a few templates, while upgrading your account will give you access to the Premium editor with a full selection of templates, plus PayPal checkout, video, sound and other premium features.
The simple editor allows you to move and change images, shapes and text to create professional-looking spreads. You can also design your own templates for a consistent style across each piece of content on your profile.
E-Commerce Compatibility
You can use FlipSnack to create a new catalog of your products, and readers can shop within the interactive flip book without leaving the page. It's a unique, seamless shopping experience – powerful for increasing sales.
FlipSnack Edu – For Teachers
FlipSnack allow has a version for educators – FlipSnack Edu. It allows teachers to create accounts for all of their students so kids can create and share their own books. It's a great experience for children to view and use their original creations in a polished, grown-up looking flip book. Teachers and administrators can also design new newsletters and updates to share with parents.
Free Trial Features
FlipSnack allows you to register to make an account for free.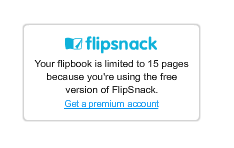 Your free account comes with 1 GB of storage. You can have 15 pages per flip book, and you can build up to three flipbooks. You can still share your link so others can read your content without downloading a PDF reader.
With a free account, you can also get an embed code to publish a flip book on your own website or blog. However, the embedded flip book will be watermarked, and again, it can only be up to 15 pages.
You can test out most features for free, but if you're serious about using FlipSnack for your school, business or publication, you'll need to upgrade your account.
Upgrading Your Free Account
A premium account is as little as $16/month when you choose the FlipSnack Publisher account and pay annually. That's an affordable price for even casual content creators, and grants you unlimited digital publishing and storage. The Publisher account also comes with comment and share features.
FlipSnack Review: Pros And Cons
Pros
PayPal Checkout (For Paid Accounts)
Readership Statistics
Reasonable Prices
Online Flip book Editor
Easy To Use
SEO Friendly
Unlimited digital Publishing For All Premium Accounts
Cons
Not Much Customization For Flip book Reader
Uses social media Facebook Comments – users must log in to comment.
Who It's For
If you're creating rich, visual content, you may need a way for more people to access your content across both desktop computers and mobile devices.
For content marketing, FlipSnack is useful because of the readership statistics and compatibility with Google Checkout.
The finished flipbook is complete with a background and audible flipping sound as pages are turned. It's a realistic reading experience created from flat, lifeless PDF files. Whether you have a PDF file that needs better accessibility, or need to make a flip books from scratch, the finished product looks authentic.
Search engines do index every book that is published on Yumpu, though you can create a new private book with an upgraded account. This is a good way to build backlinks, and make sure your content reaches even more readers. Create your own flipbook fast and easy with Yumpu Publishing.